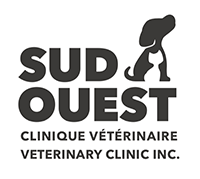 The new clinic is NOW OPEN! Clinique Vétérinaire Sud-Ouest / Sud-Ouest Veterinary Clinic is located at 4028 rue Notre Dame West, H4C 1R1. Call 514-600-VETS (8387).

There is meter parking right in front and a city parking lot with meters across the street. You can email Dr. Elkin Seto and the Sud-Ouest team at: info@vetsudouest.com.



(see below for English)


Chers clients,
Nous voulions juste rappeler à tout le monde certains des changements ici à la clinique en raison de la pandémie.
Aucun client n'est autorisé à entrer dans la clinique pour le moment, pour la sécurité de notre personnel et de nos clients.
Nous ne prenons que les rendez-vous d'urgence et les opérations chirurgicales d'urgence pour le moment. Veuillez appeler à l'avance pour prendre un rendez-vous.
Nous vaccinons les chiots et les chatons, car leur non-vaccination peut mettre leur vie en danger.
Tous les rendez-vous sont des rendez-vous de dépôt. Vous pourrez parler avec un vétérinaire au téléphone.
Veuillez téléphoner à la clinique ou envoyer un courriel avec vos questions. Ne vous rendez pas à la clinique en personne pour obtenir des conseils.
Tous les médicaments et la nourriture doivent être commandés par téléphone 24 heures à l'avance et vous seront remis à l'extérieur de la clinique. Veuillez appeler bien à l'avance car nous subissons parfois des retards de livraison de la part de notre fournisseur.
Tous les paiements sont effectués par carte de crédit au téléphone. PAS D'ARGENT CASH.
Veuillez ne pas vous présenter à la clinique si vous présentez des symptômes de maladie (toux, mal de gorge, essoufflement, fièvre).
Pour vous aider à rester chez vous, nous vous proposons un service temporaire de livraison de nourriture pour animaux et de médicaments à 5 $, le mercredi et le vendredi après-midi et en soirée. La livraison est gratuite pour les clients âgés de plus de 60 ans. Vous devez habiter dans un rayon de 10 km autour de la clinique. Veuillez appeler bien à l'avance car les créneaux de livraison sont limités.
En raison de la situation présente, nous recevons un grand nombre d'appels de téléphone et des courriels. Nous répondrons à tout le monde, nous sommes désolés pour les retards éventuels. Nous vous remercions de votre patience.
En ces temps difficiles, il est important que nous nous réunissions tous en tant que communauté pour faire notre part. Si l'un d'entre nous à la clinique tombe malade, nous ne serons pas en mesure de nous occuper de vos animaux. Nous apprécions votre compréhension et votre patience en ce moment pour nous aider à minimiser le risque de contamination.
Cordialement,
L'équipe de la Clinique Vétérinaire du Sud-Ouest
Pour des mises à jour sur la clinique, suivez-nous sur notre nouvelle page Facebook : https://www.facebook.com/vetsudouest/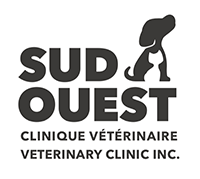 To our clients,
We just wanted to remind everyone of some of the changes here at the clinic due to the COVID-19 pandemic.
No clients are allowed into the clinic at this time for the safety of our staff and our clients.
We are only taking emergency APPOINTMENTS and surgeries at this time. Please call in advance to book an appointment.
We are vaccinating puppies and kittens, as it is life threatening for them not to be vaccinated.
All appointments are drop-off appointments. You will be able to speak with a veterinarian over the phone.
Please call the clinic or email with your questions. Do not go to the clinic in person for advice.
All medication and food must be ordered over the phone at least 24 hours in advance, and will be given to you outside of the clinic. Please call well in advance as we are sometimes experiencing shipment delays from our supplier.
All payments are being taken by credit card over the phone. NO CASH.
Please do not come to the clinic if you are experiencing any symptoms of illness (cough, sore throat, shortness of breath, fever). Have a friend or family member bring in your pet and we can speak over the phone.
To help you stay home, we are offering a temporary $5 delivery service for pet food and medication, on Wednesday and Friday afternoon and evenings. You must live within a 10km radius of the clinic. Delivery is free of charge for clients over 60 years old. Please call well in advance as delivery slots are limited.
Our opening hours are currently Monday to Friday from 9AM – 5PM and Saturdays from 9AM – 2PM. We are no longer open late on Tuesdays and Thursdays.
Due to the current situation we are experiencing a high volume of phone calls and emails. We will get back to everyone, we are sorry for any delays. We appreciate your patience.
At this difficult time, it is important that we all come together as a community to do our part. If any of us at the clinic become ill, we will not be able to care for your animals. We appreciate your understanding and patience at this time to help minimize the risk of contamination.
Sincerely,
The Sud-Ouest Veterinary Clinic Team
For clinic updates follow us on our new Facebook Page: https://www.facebook.com/vetsudouest/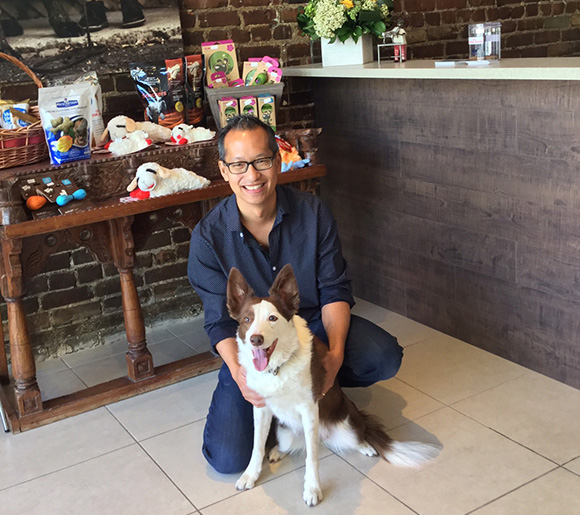 Dr. Elkin Seto - Bio
Dr. Elkin Seto graduated from the Ontario Veterinary College in 2000. Since then he has been working in small animal practices in Montreal. He was born in Vancouver, B.C. and moved to Montreal in 1983. He completed a BComm from Concordia University before pursuing his studies in veterinary medicine. Dr. Seto's special interests lie in dentistry and surgery. He has been playing violin since the age of 3 and now enjoys playing with his children who are also violinists. In his spare time Dr. Seto enjoys spending time with his wife, 3 children, and 2 dogs.

Docteur Elkin Seto - Bio
Le Dr. Elkin Seto a gradué du Collège Vétérinaire de l'Ontario en l'an 2000. Depuis, il a exercé la médecine vétérinaire dans une clinique à Montréal et entreprend maintenant d'ouvrir très bientôt son propre hôpital pour soins animaliers dans le quartier St-Henri. Né à Vancouver, en Colombie-Britannique, il vit à Montréal depuis 1983. Il a complété un Baccalauréat en Administration à l'Université Concordia pour ensuite se diriger vers la médecine vétérinaire et approfondir ses connaissances en dentisterie et chirurgie animales, des domaines qui ont consolidés sa grande réputation dans la région montréalaise. Dans ses temps libres, le Dr. Seto adore passer des bons moments en famille avec sa femme, leurs 3 enfants et 2 chiens. Il aime aussi partager avec eux sa passion pour la musique et le violon, un instrument dont il joue depuis l'âge de 3 ans.



Dr. Caitlyn Honos - Bio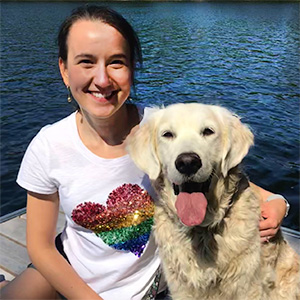 Dr. Caitlyn Honos developed a passion for animals and set her sites on a career path in veterinary medicine from a young age. Her journey began in elementary school, spending her free time reading an encyclopedia of dog breeds, and learning about the care of all types of domestic species. Her love of animals isn't limited to cats and dogs; she grew up riding horses and worked as a dairy farm assistant and tour guide at the McGill Macdonald Campus Farm.

At 12 years old she welcomed her first dog into the family and met her puppy's vet, Dr. Seto; it was the beginning of a lifelong friendship and mentorship. In 2019, after 11 years of animal related volunteer work, and stages with general veterinary practitioners and veterinary specialists in Montreal, she graduated from Ireland's Veterinary School, University College Dublin.

After years studying in Ireland, Dr. Honos is thrilled to be back home in Montreal, and working with Dr. Seto as part of the Sud Ouest Veterinary Clinic team! She strongly believes in providing quality veterinary care while treating all of her patients and their families with kindness and compassion. While passionate about her work, she isn't all work and no play. Outside of the clinic Dr. Honos likes to spend quality time with Happy, her Golden Retriever, spend time outdoors hiking and skiing, and has a love for travel.